About Ramses Tours
Ramses Tours thank you for for giving us the opportunity to present our services that Trip Advisor have recently given us
an Award of Excellence for, Ramasside Travel Group is a member of the Egyptian Tourist Board, one of the leading tour operators and travel agencies in Egypt.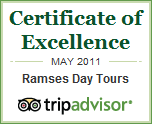 Ramses Tours success story started many years ago, Ramses's journey began two decades ago. Over the years, Ramses tours have grown into a leading travel company and hospitality foundation offering a lot of facilities and services all over Egypt, Jordon and the Middle East. The group's strong presence owes itself to a history of service excellence, a far-reaching network of partners, forward-thinking vision and a global business outlook.
Now Ramses travel group deals with the country's largest fleet of Nile cruises, most of hotels, resorts and a myriad of ground, sea and air transportation services.
Having reached the top of success in the international and domestic travel market, Ramses tours now looks towards the region and the world. Our strategy for the years to come will continue to build around extending the reach of the group's network of products and services as well as establishing a strong presence in the world's travel market. In short, the group's pioneer spirit of constantly developing new destinations and offering a diverse range of services will continue on well into the future and finally we promise you with the tour of your life time with us in Egypt Enjoy Egypt with Ramses tours.
Ramses Tours is member of:
1. The Egyptian Travel Agent Association ETAA.
2.World Tourism Organization WTO.
3. The Egyptian ministry of tourism EMT.
4. The International Association of Travel and Tourism.
We have been the local sightseeing experts offering a wide range of daily tours covering all of Egypt's most well-known attractions. Our tours are escorted by professional guides and include travel by luxury air conditioned coach and include all entrance fees. We appreciate that your leisure time is important to you and have therefore designed our tours to ensure that you have the maximum amount of time at each venue to fully appreciate it and enjoy the experience.
Ramses tours latest news
-Trip Advisor certificate of excellence Award Is Added to Ramses tours travel group

-Ramses tours is representing Egypt in The WTM WORLD TRAVEL MARKET London event.

The World Travel Market, the travel industry's leading global event is held annually in London marking a vibrant platform for the travel trade to meet and conduct business. Each year, the WTM brings Ramses tours new business partnerships and prestigious recognitions, this year bringing Egypt coveted recognition that represented the rising of new recovery signals in the Egyptian tourism sector's horizon.

Ramses Tours is a name you can count on for impeccable service, high quality tours and value for money!

All offices of Ramses tours , Head office and branches in Aswan, Luxor, and Sharm El Sheikh are linked together, so that we are able to receive and deliver our messages locally and worldwide accurately and speedily, and to follow up details, reservations, reports, and daily activities to obtain the maximum satisfaction for our clients.

53 Garden City Semoha.
Alexandria, Egypt.

Direct Phone :002/01005759364

Cell n : 002/01006808857

Fax :002/034243871

Email:

[email protected]

www.ramsestours.com

Branches

» 16 Mostafa Basha Kamel – Cairo


Hurghada
» 39 elsakala st

Sharm El Sheikh
» El hassan Building, Hadaba

Aswan
» 25Corniche El Nil
El Gouna
» Kafr El Gouna El Gouna Resort, El Gouna 005, Egypt

Dahab
» 53 Blue Hole Road

Bawiti
» 26 north of Bawiti center
opposite Al-Beshmo Lodge Bawiti

Nuweiba
» Swisscare Nuweiba Resort Hotel
» P.O. Box 15 Nuweiba

Marsa Alam
» 26 El Shatee St. – Marsa Matrouh – Egypt

Taba
» Nuweiba Road South Sinai , P.O. Box 14
Taba 4661 Egypt

Abu Simbel
» 53 Abu Simbel Touristic Village, Abu Simbel, Egypt


Farafra
» New Valley, Farafra 13522, Egypt


Port Said
» Mohmed el manakly St.Heath tower (NO B) Port Said

El Quseir
Sirena Beach, El Quadim | El Quadim Bay, El Quseir 84712, Egypt

Ras Mohammed
26 Ras Mohammed National Park


Borg El Arab

Km 58, Alexandria Matrouh Road, Borg El Arab, Egypt

Ismailia
Forsan island | P.O.box 81, Ismailia, Egypt

Mersa Matruh

22 El Shatee St, Mersa Matruh, Egypt

Al Qasr
» Al Qasr – EgyptKawm ad Dahab
48 miles west of Kawm ad Dahab

Al Minya
18 Taha Hussein St. | Soltan, Al Minya, Egypt

Saint Catherine
Wadi El Raha St.31, Saint Catherine, Egypt

Ramses Tours is not just another Egyptian Tour company. We are the Egyptian Tour Company and that is the difference when traveling abroad. A very high percentage of our guests come from the western part of our world. We understand the needs and expectations of our western guests. We are not a business to you; we are a partner with you in customer service and care.

About Us